Products You May Like
Today's young adult books bring romance, adventure and social commentary. Take a look at our best bets for what to read this September.
Dark and Shallow Lies by Ginny Myers Sain
Type: Novel
Publisher: Razorbill
Release date: Sept. 7
Den of Geek says: A distinct setting and a place on the line between thriller and fantasy set this one apart. Although it's a debut novel, it's been praised for "lush, lyrical prose."
Publisher's summary: La Cachette, Louisiana, is the worst place to be if you have something to hide.
 
This tiny town, where seventeen-year-old Grey spends her summers, is the self-proclaimed Psychic Capital of the World—and the place where Elora Pellerin, Grey's best friend, disappeared six months earlier.
 
Grey can't believe that Elora vanished into thin air any more than she can believe that nobody in a town full of psychics knows what happened. But as she digs into the night that Elora went missing, she begins to realize that everybody in town is hiding something—her grandmother Honey; her childhood crush Hart; and even her late mother, whose secrets continue to call to Grey from beyond the grave.
 
When a mysterious stranger emerges from the bayou—a stormy-eyed boy with links to Elora and the town's bloody history—Grey realizes that La Cachette's past is far more present and dangerous than she'd ever understood. Suddenly, she doesn't know who she can trust. In a town where secrets lurk just below the surface, and where a murderer is on the loose, nobody can be presumed innocent—and La Cachette's dark and shallow lies may just rip the town apart.
Buy Dark and Shallow Lies by Ginny Myers Sain.
A Clash of Steel: A Treasure Island Remix by C. B. Lee
Type: Novel
Publisher: Feiwel & Friends
Release date: Sept. 7
Den of Geek says: A Clash of Steel is the first of the "Remixed Classics" series, which pairs diverse writers with classics for a new look at beloved stories. This adventure on a Chinese ship promises fun pirate action.
Publisher's summary: 1826. The sun is setting on the golden age of piracy, and the legendary Dragon Fleet, the scourge of the South China Sea, is no more. Its ruthless leader, a woman known only as the Head of the Dragon, is now only a story, like the ones Xiang has grown up with all her life. She desperately wants to prove her worth, especially to her mother, a shrewd businesswoman who never seems to have enough time for Xiang. Her father is also only a story, dead at sea before Xiang was born. Her single memento of him is a pendant she always wears, a simple but plain piece of gold jewelry. 
But the pendant's true nature is revealed when a mysterious girl named Anh steals it, only to return it to Xiang in exchange for her help in decoding the tiny map scroll hidden inside. The revelation that Xiang's father sailed with the Dragon Fleet and tucked away this secret changes everything. Rumor has it that the legendary Head of the Dragon had one last treasure―the plunder of a thousand ports―that for decades has only been a myth, a fool's journey.
Xiang is convinced this map could lead to the fabled treasure. Captivated with the thrill of adventure, she joins Anh and her motley crew off in pursuit of the island. But the girls soon find that the sea―and especially those who sail it―are far more dangerous than the legends led them to believe.
Buy A Clash of Steel: A Treasure Island Remix by C. B. Lee.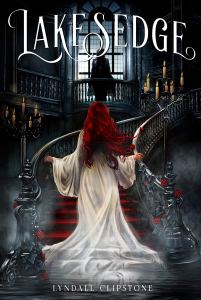 Lakesedge by Lyndall Clipstone
Type: Novel
Publisher: Henry Holt & Co.
Release date: Sept. 28
Den of Geek says: This gothic romance in the vein of Crimson Peak looks refreshingly weird, with villains that set up to be truly ominous instead of petty or conflicted.
Publisher's summary: When Violeta Graceling and her younger brother Arien arrive at the haunted Lakesedge estate, they expect to find a monster. Leta knows the terrifying rumors about Rowan Sylvanan, who drowned his entire family when he was a boy. But neither the estate nor the monster are what they seem.
As Leta falls for Rowan, she discovers he is bound to the Lord Under, the sinister death god lurking in the black waters of the lake. A creature to whom Leta is inexplicably drawn… Now, to save Rowan―and herself―Leta must confront the darkness in her past, including unraveling the mystery of her connection to the Lord Under.