Products You May Like
This RIVERDALE review contains spoilers.
Riverdale Season 5 Episode 15
"Our story is about three young women bursting with talent."
When last we saw Josie McCoy (Ashleigh Murray), she was in New York City trying to make her dreams come true on the ill-fated (and gone-too-soon) Riverdale spin-off Katy Keene. Often when characters are spun-off and their subsequent shows fail, they vanish into the pop culture ether — The Ropers from Three's Company being the textbook case of this phenomenon. But not so for Josie. This latest episode debuts a new iteration of the character, one who has achieved her dreams but still finds herself wanting more. It is a decidedly more mature take on the previously underwritten character, and one that allows Murray's considerable acting and musical abilities to shine.
In short, it is the Josie that fans have always wanted to see.
But what good is the character without the backing of her Pussycats? Drummer Melody Valentine (Asha Bromfield) and multi-instrumentalist Valerie Brown (Hayley Law) have been estranged from Josie since she blew off the Pussycats for a solo career when they were in high school. Seven years later and the wounds are still raw, even though Melody has since become a renowned author with movie rights optioned by Tyler Perry, and Valerie is a talented artist and actress.
When Josie returns to Riverdale to take stock following the sudden death of her father, she finds herself coming to terms with her past. More than that though, she has found her voice in every sense of the word. She dismisses Mr. Lodge, the show's big bad in a hilarious kiss off that sums up many viewers' opinions on the often irksome character. Better still, the episode allows her to get meta to discuss how Riverdale often sidelined the Josie character in her previous iteration on the series. "I didn't have much to say in old times," she plaintively declares, commenting on the problem that Riverdale had with diversity in its early seasons. She then accurately dismisses Archie, Betty, Veronica and Jughead not as old friends but as acquaintances. It's a bold and surprising scene that takes responsibility for past sins that the series committed, further illustrating that it is aware that it can do better and has been attempting to do so.
After a steamy reunion with old flame Sweet Pea (Jordan Connor), Josie begins the work of reaching out to Valerie and Melody. It is here that the episode goes from great to an all-timer. The chemistry that Murray, Bromfield and Law possess is lightning in a bottle. As old injustices are aired and attempts to repair wounded hearts and egos are undertaken, these actresses embody the old friends they portray fully. But this backdoor pilot, fortunately, has zero interest in having its women of color tear each other down. The characters candidly discuss their shared past, and begin to repair the rift that will — if The Pussycats goes to series — lead them to becoming the global superstars they are destined to be.
Josie, Melody and Valerie are icons. They know it, and the world will soon follow.
Inspired by her renewed friendship with her once and future bandmates, Josie decides to do a concert with the Pussycats that will raise money to help reincorporate the town of Riverdale. It is a performance that highlights each of the women's musical strengths, even if Josie does steal the spotlight for an emotional rendition of Nina Simone's "Stars." Despite being cut short when Toni goes into labor, the concert is enough of a success for The Pussycats to agree to go on the road together — playing in towns where Josie's late father wanted his ashes scattered. The women consider themselves to be equals now, thus the "Josie and" is jettisoned from the band name. This still being Riverdale, a friend of Josie's dad appears moments before she leaves town to tell her that her father may have been murdered in New Orleans, and that voodoo might be involved.
With this incredible/ridiculous plot development thrown at us, the full image of what The Pussycats will be as a series comes into view: A mixture of Fame and 13 Ghosts of Scooby-Doo that celebrates these characters and their comic/cartoon legacy in an unexpected way. (As an Archie comics historian even I was taken off guard by the last-minute introduction of the potential show's mystery angle, and my mind reels at the possibilities).
Hopefully sooner rather than later a series order for The Pussycats will be announced. There is so much potential here to tell exciting, fun, music-packed stories featuring strong women of color that it feels like a surefire hit. "The Return of the Pussycats" is not only the best episode of Riverdale this season, but a perfect pilot episode. There desperately needs to be lots more long tails and ears for hats in our future, for these are the Pussycats we've been waiting for.
Riverdale Rundown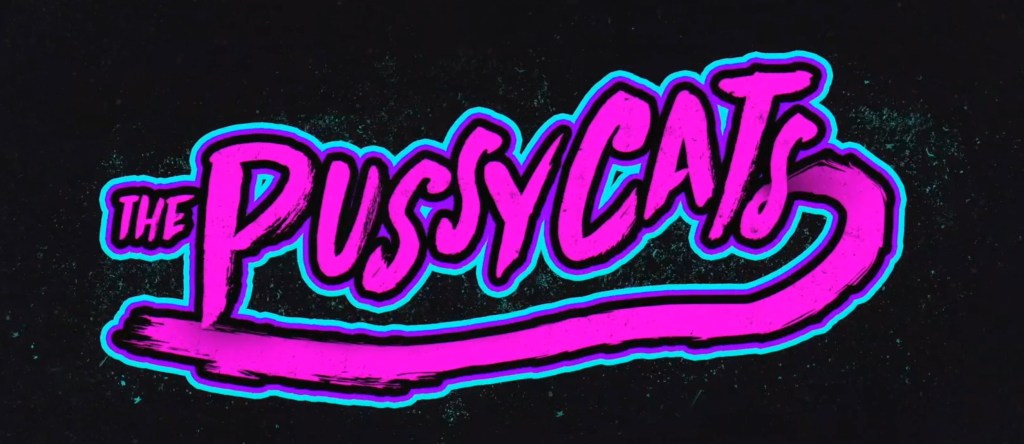 While nothing has been officially announced as of yet, it feels ridiculous for The CW to not do a full series of The Pussycats, yes? This logo appearing at the end of the episode instead of the usual Riverdale bumper bodes well for things to come. Fingers crossed…
My guess is that this episode didn't have Alexandra and Josie cross paths due to their Katy Keene past, which had the characters begin as enemies who were slowly forming a friendship before that series was cancelled. By not having them interact, the writers didn't have to figure out where their relationship currently is — making this a narrative thread that The Pussycats could potentially pull on down the line.
The character of Alan M. briefly appears as Melody's love interest, which indeed he is in the comics and fondly remembered 2001 movie.
Speaking of the Josie and the Pussycats movie, that film's ever-growing cult continues to delight me. Thanks to multiverses, there's no reason why that version of these characters and the ones of The Pussycats can't co-exist in the same pop culture landscape.
Let's give a special shoutout to Robin Givens, who not only reprises her role as Sierra McCoy here but also did a terrific job directing this installment.
Melody narrates this episode a la Jughead, except that her writing is bright and full of hope, a sharp and intentional contrast to her brooding counterpoint.
If you didn't cheer when Josie and the Pussycats took the stage to their cartoon theme song, you are dead inside.
"Entertainment Tomorrow" enters the Riverdale fake product lexicon in this episode (which also includes the returning chestnut "Vanity Flair").
Toni gives birth to a boy, Anthony.
Expect to see more about the franchising of Pop's in upcoming restaurants, and Tabitha's speech about the importance of the Chok'lit Shoppe being a black-owned restaurant in a time when Riverdale had no other such establishments was one of the most powerful scenes this series has ever done.
It's worth noting that a franchise for real-life Archie restaurants did exist in the early 1970s. However the idea never really took off, and pictures of the three diners that were opened have never surfaced online.
What the hell was up with the Old Navy product placement in this episode, which felt like it was ripped from the Josie and the Pussycats movie, minus the irony.
Kevin's dancing during the Little Shop of Horrors musical number was, unsurprisingly, everything.
Melody's book being named Summer Storm is a sly reference to actress Asha Bromfield having a newly released novel called Hurricane Summer that was released in May.
Josie uses the alias Ms. Newmar to check into hotels. Julie Newmar famously portrayed Catwoman on the Batman TV series, which not only plays into Josie's feline motif, but also is yet another of the show's near-constant DC Comics references of late.
Mr. Lodge being called a "little bitch" was so unbelievably pleasing to watch. Josie is just SO OVER Riverdale's bullshit.
In a nice character moment, Cheryl immediately leaps into action to help deliver ex-lover Toni's baby.
Dr. Curdle Jr. being a Josie and the Pussycats superfan is comedic brilliance (as is the fact that nobody trusts him enough to have him anywhere near Toni's delivery.