Products You May Like
The Call of Duty: Vanguard open beta is here! Shooter fans who weren't able to participate in the alpha will finally get a chance to try out the game's multiplayer the next two weekends ahead of the full release in October.
Several multiplayer modes and maps will be on tap for the open beta. You'll be able to jump into the new mode Patrol, which is similar to Hardpoint but where the control point never stops moving along the map, meaning you won't just be able to camp out in one spot if you want to win. You'll have to constantly be on the move with the zone.
You'll also be able to try Champion Hill, which combines battle royale with Gunfight in a tournament-style fight for survival. We recently went hands-on with the mode and came away a bit underwhelmed.
Classic modes like Team Deathmatch, Domination, and Kill Confirmed are also back for this year's beta. Four maps will be featured, including the Paris-set Hotel Royal, Gavutu in the Pacific Theater, the Russia-themed Red Star, and the mysterious Eagle's Nest.
So, when exactly can you jump in?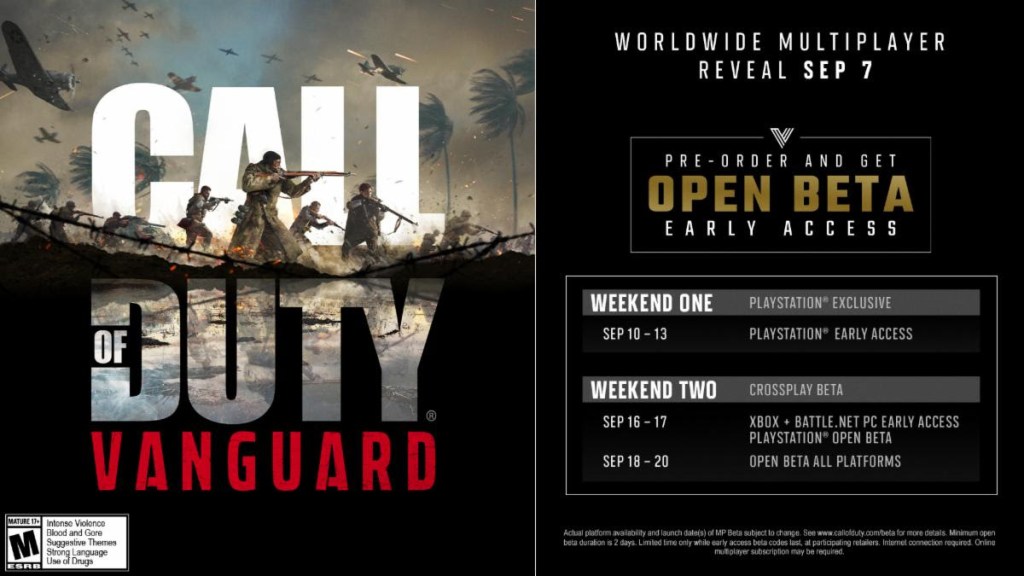 PlayStation players will have exclusive access to the first weekend of the Vanguard open beta, which runs from Sept. 10-13, before Xbox and PC owners jump in on Oct. 16-17. If you're wondering what the actual start time for the Vanguard open beta is, servers will go live at 10 am PT/1 pm ET on Friday, according to Activision. The beta will run until Monday on both weekends, giving players ample time to get quite a few matches in.
Vanguard's single-player campaign tackles an alternate WWII history "what if" scenario where a special ops unit must foil the Nazi's plan to find Adolf Hitler's successor at the tail end of the war. The four main characters making up the squad trying to stop "Project Phoenix" are based on real-life soldiers who fought for the Allied Forces.
The game will also ship with a new multiplayer component, including 20 maps across the Western, Eastern, Pacific, and North African fronts of WWII. In a first for the franchise, Treyarch will provide a new Zombies mode for another studio's Call of Duty game. Vanguard's Zombies mode is billed as "a crossover [that] connects with the  Call of Duty: Black Ops Cold War  Zombies storyline," according to a press release. Activision confirms that Vanguard will build off of the Zombies lore established in Cold War. IGN revealed that the new mode will explore "the birth of the zombies."
As for Warzone, Raven Studios is designing a brand-new map set in the Pacific — not just a re-skin of Verdansk — that ties into Vanguard. The mode "shares the same tech as Vanguard for seamless weapon and operator integration" and will also introduce a new "multi-faceted, anti-cheat system" that will hopefully help with many of Warzone's current hacker woes.
Those players hoping Vanguard's file size wouldn't be quite as big as Cold War or Modern Warfare should brace themselves. According to the game's listing on the Microsoft Store, you'll need to 270.05 GB of storage to download and play the full release of Vanguard.