Products You May Like
This Squid Game article contains some spoilers, though not the outcome of the game.
There are so many things to like about Squid Game, Netflix's Korean-language series about a group of desperate people competing in a deadly game, but one of the major ones is the stellar cast. Featuring some well-known Korean actors, as well as some relative newcomers to the acting scene, Squid Game's ensemble is more than ready to elevate the clever script and sharp direction. If you're interested in checking out other projects from this cast after finishing Squid Game, here are our recommendations!
Lee Jung-jae (이정재) as Seong Gi-hun
Squid Game character: Leading the cast of characters is Lee Jung-jae's Gi-hun, a man who has fallen on tough times after losing his job and his marriage. We are first introduced to Gi-hun in the context of his gambling addiction, as he desperately trues to get out of crippling debt in order to be a better father, son, and friend.
What to watch next: Lee Jung-jae is a 48-year-old actor who began his career as a model before transitioning into TV and later film. Notable projects include Il Mare, the 2000 film on which Hollywood's The Lake House was based and 2013's historical drama The Face Reader, in which Lee has second-billing as Grand Prince Suyang.
Jung Ho-yeon (정호연) as Kang Sae-byeok
Squid Game character: Jung Ho-yeon plays Kang Sae-byeok (aka the one who looks like ENHYPEN's Ni-ki), a North Korean defector who decides to play Squid Game in order to get the money to get her mother out of North Korea and to create a stable life for her younger brother, who is currently living in an orphanage.
What to watch next: Jung Ho-yeon will no doubt be one of the breakout stars of Squid Game. The 27-year-old actress is a successful model, and has previously appeared on Korea's Next Top Model. Squid Game is her first on-screen role, so we'll have to wait to see what she does next. In the meantime, you can rewatch Squid Game or check out Season 4 of Korea's Next Top Model.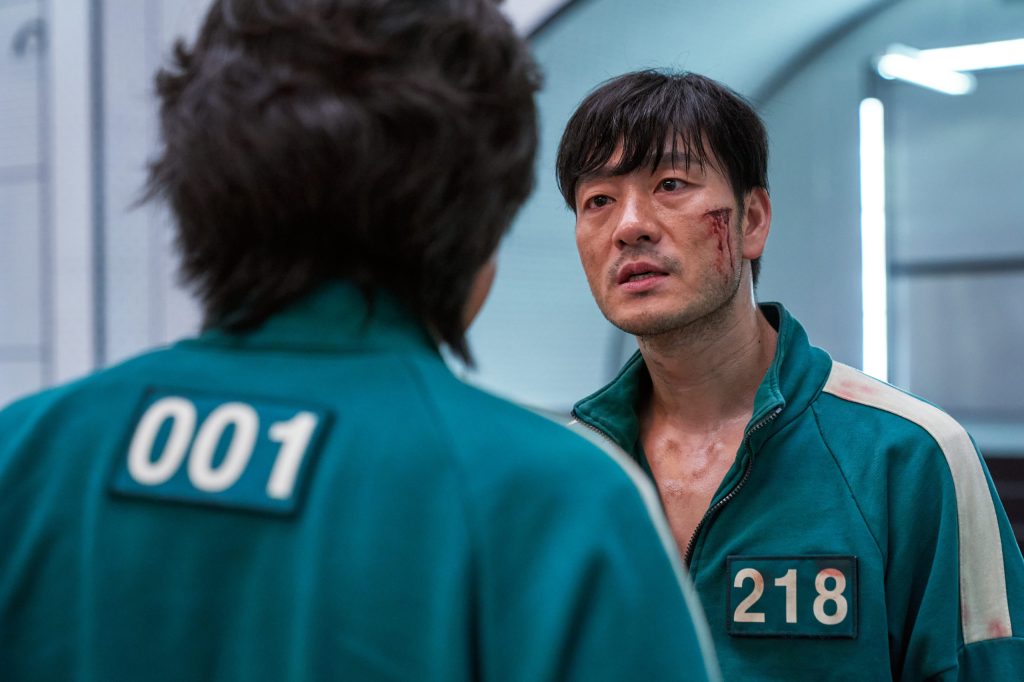 Park Hae-soo (박해수) as Cho Sang-woo
Squid Game character: Cho Sang-woo grew up with protagonist Gi-hun, and is the success story of his neighborhood after going to a prestigious university and making it big as a businessman. Unbeknownst to Gi-hun and Sang-woo's mother, Sang-woo has stolen money from his clients and is wanted by the police. He enters Squid Game in an attempt to make back the money so that he can save his mother's business and house, both of which he risked to back his illegal activities.
What to watch next: Park Hae-soo is a 39-year-old actor who is perhaps previously best known, especially to international audiences, for his starring role in 2017's Prison Playbook (one of our Best Korean Dramas to Watch on Netflix). In the drama, Park plays a baseball player who unexpectedly lands himself in jail days before his major league baseball debut. The show follows his life within prison, along with the lives of other inmates and guards, including his former best friend, who is now a corrections officer. Prison Playbook is one of the most popular K-dramas ever.
Wi Ha-joon (위하준) as Hwang Jun-ho
Squid Game character: Wi Ha-joon plays Hwang Jun-ho, who is a bit of an outlier character in a series that mostly features characters in the game as protagonists. Unlike Gi-hun or Sang-woo, Jun-ho is a cop who is investigating Squid Game after finding one of the game's calling cards in his missing brother's apartment. He does a pretty good job too, infiltrating the operation in diverse ways.
What to watch next: Wi is a 30-year-old actor with a solid filmography. If you're a horror fan, check out Gonjiam: Haunted Asylum, a 2018 found footage horror film that takes place in the former Gonjiam Psychiatric Hospital, considered to be one of Korea's most-haunted places. You could also check out Midnight, a 2021 thriller in which Wi plays a serial killer. If you're looking for something a bit softer, Wi has a supporting role in 2018 romantic drama Something in the Rain, in which he stars as one protagonist's younger brother and the other protagonist's best friend.
Oh Young-soo (오영수) as Oh Il-nam
Squid Game character: Oh Young-soo plays Oh Il-nam, the oldest contestant in Squid Game, and someone Gi-hun feels some responsibility for as the game progresses.
What to watch next: Oh Young-soo is a 76-year-old actor with a filmography that mostly includes monk roles. His previous work has mostly included playing supporting roles, but if you want to see him in something else, check out 2003 feature film A Little Monk, about a generation of three monks living in one temple, or Spring, Summer, Fall, Winter… and Spring, a 2003 film about the life of a Buddhist monk.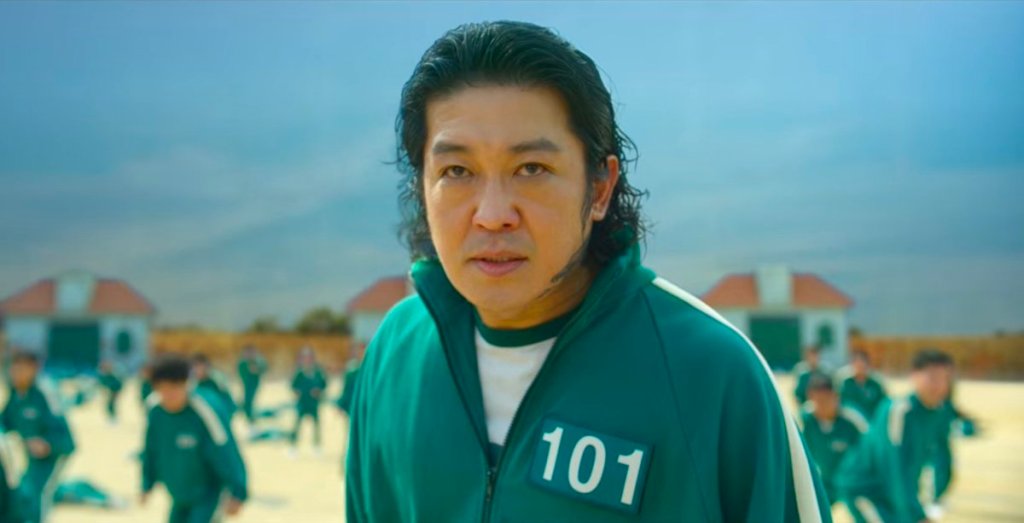 Heo Sung-tae as Jang Deok-su
Squid Game character: Heo Sung-tae plays Jang Deok-su, a gangster who enters Squid Game to settle his gambling debts, and who refuses to trust anyone in the process.
What to watch next: Heo Sung-tae is a 43-year-old actor with an extensive filmography. If you'd like to see him in a very different project, check out Racket Boys, a recent Netflix K-drama in which he appears as the coach of a boys badminton team in Episodes 10-12. If you'd like to see him in another dastardly role, check out 2021's Beyond Evil, in which he plays a cold-blooded businessman.
Kim Joo-ryung (김주령) as Han Mi-nyeo
Squid Game character: Kim Joo-ryung stars as Han Mi-nyeo, a woman who will say or do whatever she has to in order to find her best chance at winning. Originally introduced claiming to be a new mother, we never actually learn that much about Mi-nyeo's life outside of the game.
What to watch next: Kim Joo-ryung is a 45-year-old actress with an extensive filmography, though mostly in supporting roles. (Hopefully, her impressive turn in Squid Game will lead to more opportunities for the actress.) If you'd like to see her in a minor role in a successful drama, Kim appears in Episodes 16 and 17 of 2018 historical drama Mr. Sunshine. If you'd like to see Kim in a central role, check out 2012 feature Sleepless Night, in which she plays one half of a married couple working to get through daily life.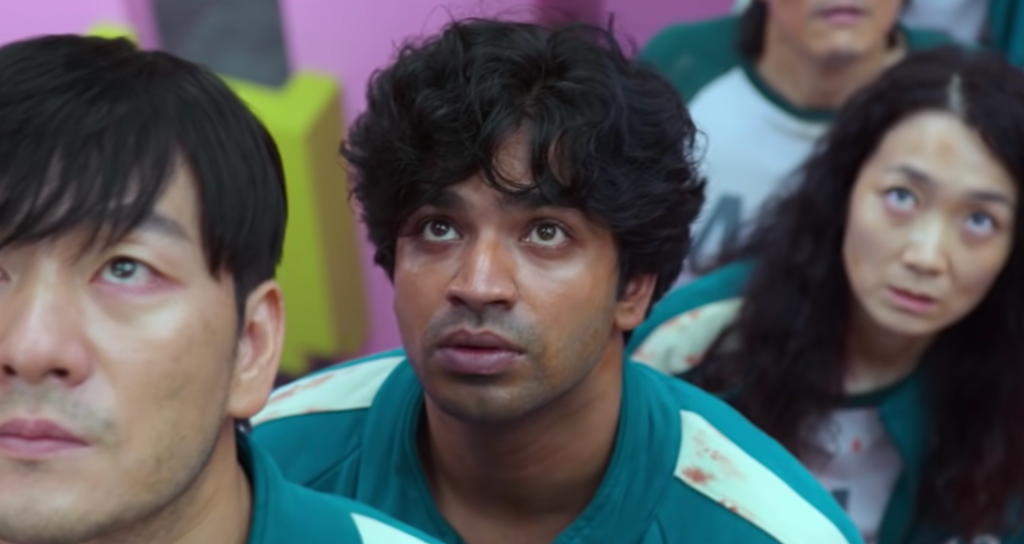 Tripathi Anupam as Abdul Ali
Squid Game character: Tripathi Anupam plays Ali, a 33-year-old Pakistani man who joins the game in order to get the money to support his family, including his parents and brother back in Pakistan and his wife and baby son, who traveled with him to Korea.
What to watch next: Tripathi Anupam is a 32-year-old Indian-born actor, who is another standout in Squid Game and a rare actor of non-Korean descent in the Korean TV and film industry. Anupam had a small appearance in Netflix's Korean sci-fi feature Space Sweepers, in which he appeared as James Sullivan's secretary. Most of Anupam's previous roles have been minor, with Squid Game being a breakout role for the actor.
Lee Yoo-mi (이유미) as Ji-yeong
Squid Game character: Lee Yoo-mi plays Ji-yeong, a young woman who we find out entered the game immediately after having been released from prison for the crime of killing her abusive father. She becomes close with Sae-byeok, who recruits her to join her team for tug-of-war.
What to watch next: Lee Yoo-mi is a 27-year-old actress who has appeared in many TV shows and films, mostly in supporting roles. If you'd like to see her in another drama, check out 365: Repeat the Year, a time travel drama that sees 10 people given the chance to travel back a year to "reset" their lives, only to find themselves in danger.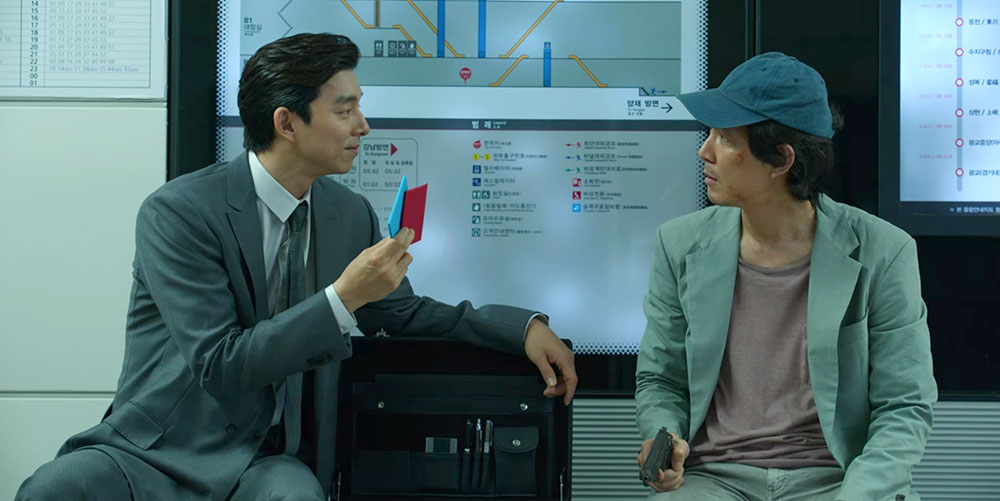 Gong Yoo (공유) as The Salesman
Squid Game character: Gong Yoo appears in a minor role as The Salesman, aka the man who recruits Gi-hun into Squid Game by playing a game of ddakji with him on the subway
What to watch next: Gong Yoo is a very successful actor in Korea who is also known internationally. The 42-year-old actor's most well-known movie role is Train To Busan, in which he stars as the divorced father and businessman protagonist trying to escape the zombie apocalypse on a high-speed bullet train. His most well-known TV role is in the uber successful Guardian: The Lonely and Great God, one of the highest-rated dramas in Korean TV history. In it, he stars as a 939-year-old immortal goblin and protector of souls. Longtime K-drama stans, however, probably know Gong from his starring role in Coffee Prince, a romance about a woman pretending to be a girl in order to get work and a young food empire mogul, played by Gong.
Lee Byung-hun as The Front Man, aka In-ho
Squid Game character: Lee Byung-hun plays the Front Man, aka the masked man who runs the day-to-day operations of Squid Game. He lives in a fancy apartment within the game's facility, and maintains contact with the game's supervisors via a landline.
What to watch next: If you're looking to see more of Lee Byung-hun's face than Squid Game offers, then you have a lot of options. The 51-year-old actor and singer has been a part of the Korean entertainment industry for decades, and has been one of the most successful Korean actors in that time, with five films on the 50 highest-grossing domestic films in South Korea list: Joint Security Area; The Good, the Bad, the Weird; Masquerade; Inside Men; and Master.
Lee is the only Squid Game actor to have some substantial Hollywood credits on his filmography as well. American audiences may recognize him from his role as Storm Shadow in the G.I. Joe franchise; he has also appeared in Red 2, Terminator Genisys, and The Magnificent Seven. A member of the Academy of Motion Picture Arts and Sciences, he was the first South Korean to present an Oscar at the Academy Awards.
Which Squid Game cast member were you the most impressed by? Let us know in the comments below…