Products You May Like
As surreal as it might seem to newer Star Wars fans, the omnipresent franchise once fell into a decade of relative dormancy until the late-1990s. It was a natural effect, since the Original Trilogy phenomenon played itself out upon 1983's Return of the Jedi. It was subsequently kept afloat on television, first with two Ewoks live-action TV movies, followed by 1985-1986 Saturday morning cartoons Star Wars: Ewoks and Star Wars: Droids. Interestingly, the latter series took place 15 years before A New Hope, making it the franchise's forgotten first prequel (revoked canonical status aside), and even featured Boba Fett. Now, this mostly-forgotten era is getting an eye-opening contemporary nod via new, retro-styled Droids toys.
Hasbro has announced a most intriguing assortment in the form of Star Wars: Droids commemorative action figures. The Target-exclusive lineup specifically consists of a lone offering from the 6" scale Black Series in Boba Fett ($26.49), and three from the 3 ¾" Vintage Collection with the eponymous droids, C-3PO and R2-D2, along with yet another Boba Fett (each $15.99)—because, you know, it's Boba Fett. Indeed, Disney+ series The Mandalorian effectively reintroduced the shady-but-beloved bounty hunter into the post-OT canon, which will soon manifest with spinoff The Book of Boba Fett, fueling any excuse for more of him. However, the figures further strengthen the franchise's embrace of things rendered apocryphal in the Disney era, notably with Disney+ having recently made those TV movies and cartoons available to stream.  
Check out the lineup of Star Wars: Droids figures just below.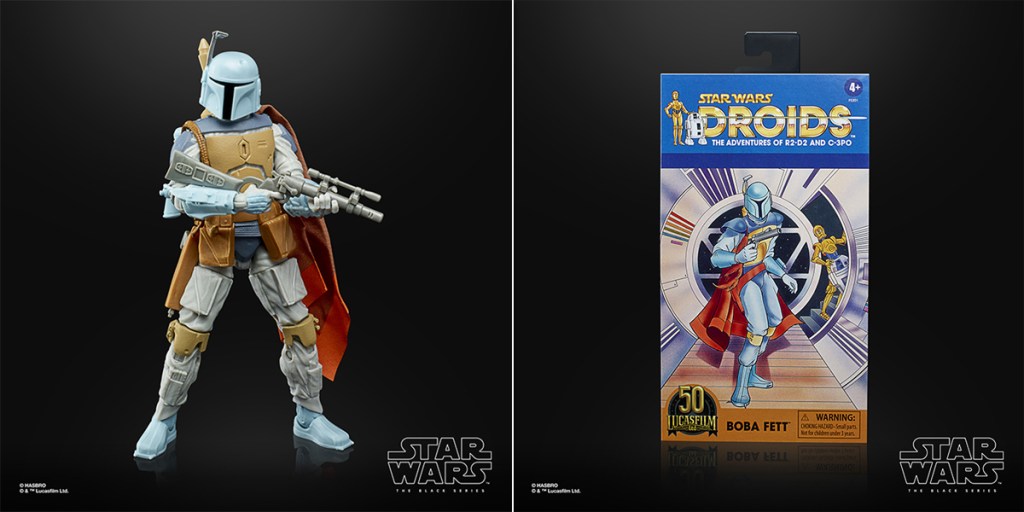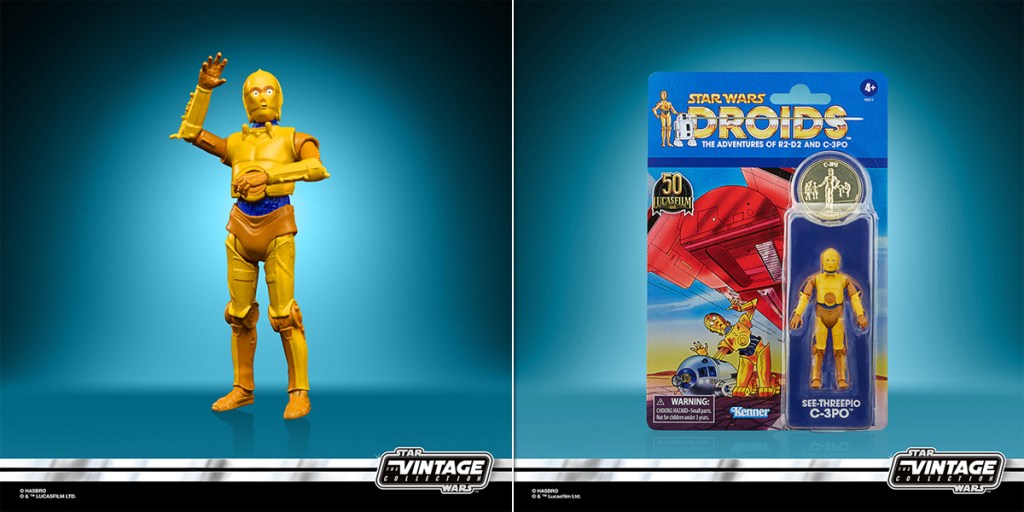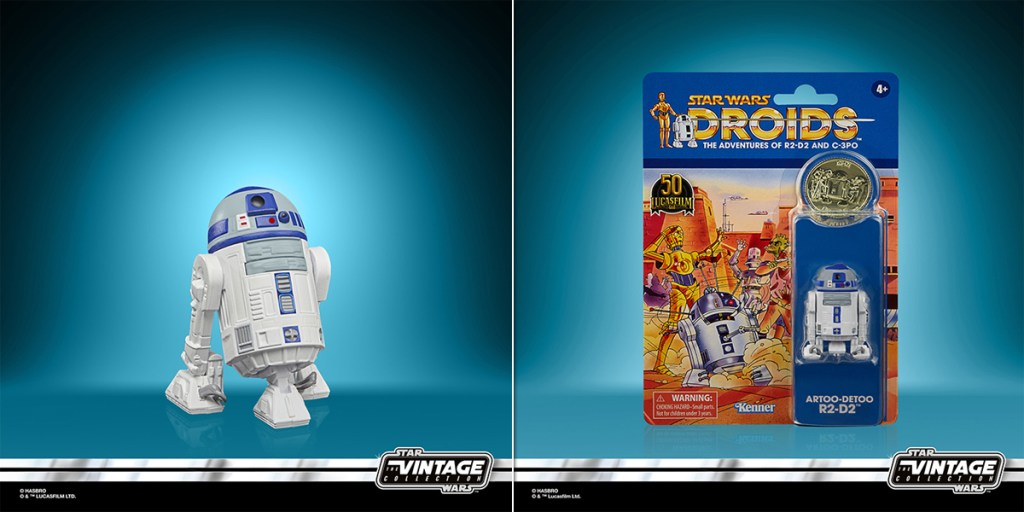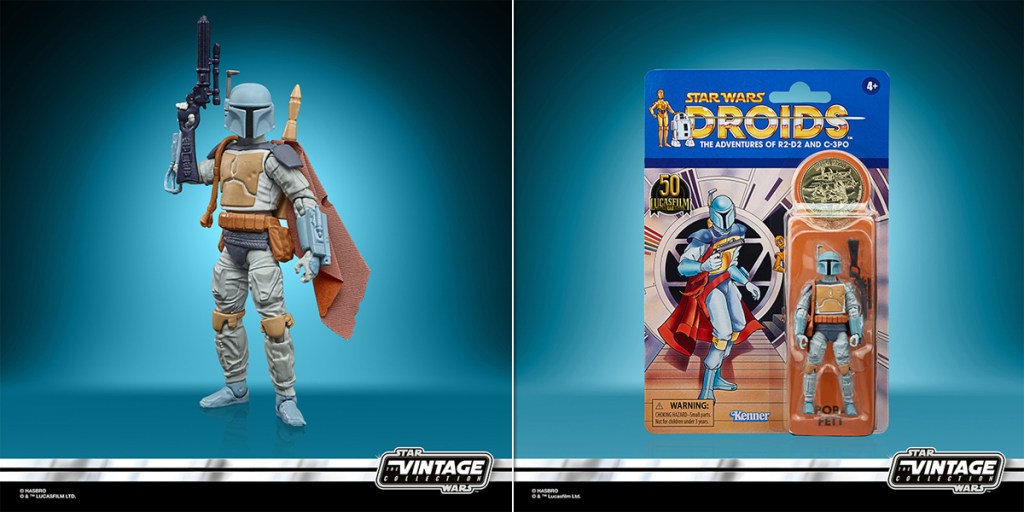 As you can see, the figures brandish an eccentric, Easter-egg-evocative color palette that accurate reproduces the aesthetics of the Droids cartoon; something that might not make them everyone's cup of tea. However, it's a delightfully eccentric lineup that will not only hit a heretofore untapped aspect of Star Wars nostalgia, but potentially become embraced by completists and those who are simply curious. Indeed, the wave's status as Target exclusives cement their status as esoteric offerings. Yet, this is a double-edged sword, since retail exclusives—specifically for Walmart and Target—have become the bane of collectors, especially with unstable and inconsistent distribution of the pandemic-era supply chain. In fact, some derisively dismiss these kind of releases as "ebay exclusives," since they tend to become fodder for scalpers. However, Target is putting them up for preorder—as little comfort as that may be for those inevitably left disappointed by the typically-instant sell-outs.
As far as the main attraction goes, there is obviously no shortage of Boba Fett in the arena of Star Wars toys and merchandise in general, both past and present. The character—once relegated to a few brief onscreen appearances that included a goofy (eventually overturned) death in Return of the Jedi—has achieved a level of ubiquity that's nearly on par with Darth Vader himself. Indeed, Hasbro just recently released newly-tooled versions of Boba Fett from Jedi in both the 6" Black Series and 3 ¾" Vintage Collection—notably complementing the myriad releases we've been getting since the engine of retro-carded Star Wars figures first revved up way back in 2004. Consequently, despite brandishing his wacky color scheme from the Droids cartoon, these duo of Boba figures are not exactly unique. That's because this look was already reminiscent—perhaps to the point of tribute—of Boba's first-ever appearance in 1978's notorious Star Wars Holiday Special animated segment, "The Story of the Faithful Wookie," and that version has already been covered in both the 6" and 3 ¾" lines. Nevertheless, they tick a long-overdue box of Fett's history left to commemorate.   
On another note, fans who recall the mid-to-late-1980s-era sight of toy pegs filled with those pastel-blue Droids cardbacks possess a unique memory, since they represent the twilight era of Star Wars' classic period. They, along with the green-carded Ewoks line, would stand as the franchise's last proper figure line until a massive 1995 relaunch, which rode momentum from the THX remastered releases of the Original Trilogy—and the imminent Special Editions—along with hype for the then-gestating Prequel Trilogy.
Yet, with the movies well in the rearview mirror, toy company Kenner (a now-nixed subsidiary of current branding Hasbro,) continued adding to its unprecedentedly-deep character pool of 3 ¾" action figures, first with 1985 line "Power of the Force," which—diverging from the iconic original silver-framed black cardbacks—mostly consisted of rereleases along with the occasional missed movie character, notably Sebastian Shaw's Anakin Skywalker. However, to further lure fans from potential burnout, Kenner started to include collector's coins with the figures; a practice that continued with the Star Wars: Droids and Star Wars: Ewoks lines. While those lines mostly showcased uniquely-tooled figures from the shows, the ride aboard the proverbial White Witch racer wouldn't last long, since it all came to a stop, per the fate of their respective shows, in 1986. Thusly, even the inclusion of the coins—a first for Star Wars figures since 2007—is a wonderfully specific throwback in an era of throwbacks.
Nevertheless, fans of the certain cloned Mandalorian bounty hunter who—in the Legends lore—terrorized the Droids crew will have their fill of new live-action canonical material when The Book of Boba Fett arrives on Disney+ this December. As for the figures in question, Target revealed that preorders will go up on its website tomorrow, Sept. 24 at 9 AM ET / 6 AM PT.