Products You May Like
Today's young adult books bring romance, adventure and social commentary. Take a look at our best bets for what to read this September.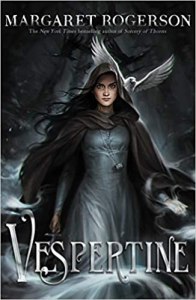 Vespertine by Margaret Rogerson
Type: Novel
Publisher: Margaret K. McElderry Books
Release date: Oct. 5
Den of Geek says: The author's Venom comp hooked me on this one. Set in an alternate world with Catholic trappings, the central relationship satisfies for folks who want less romance and more monsters in their stories of girls coming of age.
Publisher's summary: The dead of Loraille do not rest.
Artemisia is training to be a Gray Sister, a nun who cleanses the bodies of the deceased so that their souls can pass on; otherwise, they will rise as spirits with a ravenous hunger for the living. She would rather deal with the dead than the living, who trade whispers about her scarred hands and troubled past.
When her convent is attacked by possessed soldiers, Artemisia defends it by awakening an ancient spirit bound to a saint's relic. It is a revenant, a malevolent being that threatens to possess her the moment she drops her guard. Wielding its extraordinary power almost consumes her—but death has come to Loraille, and only a vespertine, a priestess trained to wield a high relic, has any chance of stopping it. With all knowledge of vespertines lost to time, Artemisia turns to the last remaining expert for help: the revenant itself.
As she unravels a sinister mystery of saints, secrets, and dark magic, her bond with the revenant grows. And when a hidden evil begins to surface, she discovers that facing this enemy might require her to betray everything she has been taught to believe—if the revenant doesn't betray her first.
Buy Vespertine by Margaret Rogerson.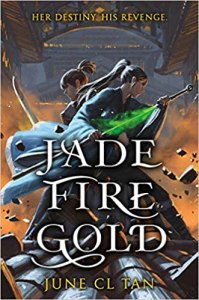 Jade Fire Gold by June C. Tan
Type: Novel
Publisher: HarperTeen
Release date: Oct. 12
Den of Geek says: Action and vibrant characters take the stage in this novel inspired by martial arts epics.
Publisher's summary: Girls of Paper and Fire meets A Song of Wraiths and Ruin in June CL Tan's stunning debut, where ferocious action, shadowy intrigue, rich magic, and a captivating slow-burn romance collide.
In an empire on the brink of war . . .
Ahn is no one, with no past and no family.
Altan is a lost heir, his future stolen away as a child.
When they meet, Altan sees in Ahn a path to reclaiming the throne. Ahn sees a way to finally unlock her past and understand her lethal magical abilities.
But they may have to pay a far deadlier price than either could have imagined.
Vial of Tears by Cristin Bishara
Type: Novel
Publisher: Holiday House
Release date: Oct. 5
Den of Geek says: Looking for something light and full of magic? This adventure is an escape into a world of mythological creatures.
Publisher's summary: Teenage sisters Samira and Rima aren't exactly living the dream. Instead, they live with their maddeningly unreliable mother in a rundown trailer in Michigan. Dad's dead, money's tight, and Mom disappears for days at a time. So when Sam's grandfather wills her the family valuables–a cache of Lebanese antiquities–she's desperate enough to try pawning them before Mom can. 
But she shouldn't. Because one is cursed, forbidden, the burial coin of a forgotten god. Disturbing it condemns her and Rima to the Phoenician underworld, a place of wicked cities, burning cedar forests, poisoned feasts of milk and lemons, and an endless, windless ocean. 
Nothing is what it seems. No one is who they say. And down here, the night never ends. 
To get home–and keep her sister safe–Sam will have to outwit beautiful shapeshifters, pose as a royal bride, sail the darkest sea… and maybe kill the god of death himself.