Products You May Like
Sifting decades of horror television down to just a devil's dozen requires discipline and ruthlessness. There can be no mercy. If a horror TV show once reigned supreme from a throne of grisly guts but now feels about as desirable an experience as a colonoscopy, it didn't make this list. If another show spooked us from here to next week when we were kids but didn't hold up when revisited as adults, it didn't make the list. And if it made the top of everybody else's list (hello Twin Peaks) then we left it out purely for the mischief.
Of a wealth of great horror TV shows in existence, the below represents our pinnacle. 13 being so few, these are English-language only (so no Les Revenants, Marianne, Kingdom or The Kingdom for that matter) and had to be series instead of one-offs (so no Ghost Watch). They're not horror-comedies either, otherwise it would only have been fair to give every single spot to What We Do In The Shadows. Other than that, it only remains to say: mwahahahahahahaha. Happy Halloween.
13. Penny Dreadful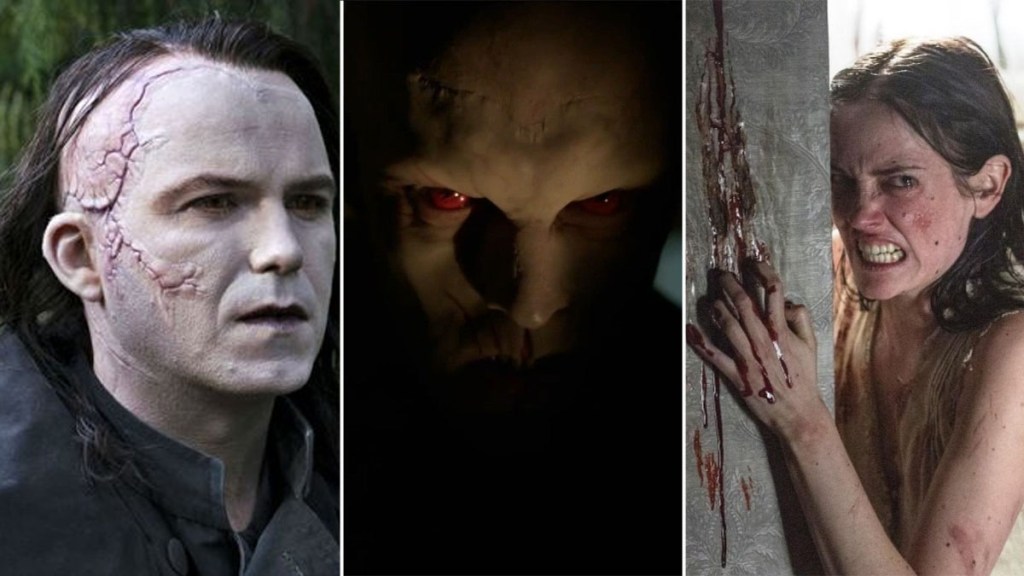 'Do you believe there is a demi-monde? A half-world between what we know and what we fear, a place in the shadows, rarely seen but deeply felt?'
The attraction of Penny Dreadful isn't all about Eva Green as spooky medium extraordinaire Vanessa Ives, but it is mostly about Eva Green as spooky medium extraordinaire Vanessa Ives. For three seasons, Green presided over a library's worth of literary monstrosities with bewitching intensity and unequalled elegance. Ives' soul was the contested battleground in a demonic fight between Lucifer, his followers, and the forces of (dubious) good.
Created by former Bond collaborators John Logan and Sam Mendes, Penny Dreadful was a full-body dive into the bloody Gothic imagination of the 19th century. Its jewellery box of book characters included Dracula, Dorian Gray, Victor Frankenstein, Dr Jekyll and many more, all resurrected by a strong cast which included the excellent Rory Kinnear (pictured above, left) and the redoubtable and much-missed Helen McCrory as played Madame Kali, leader of the Nightcomers intent on winning the prize of Vanessa for their master. Lurid, well-made and atmospherically designed, the scent of blood and incense was never far away in Penny Dreadful, which increased its scope season by season. Drenched in gore, it was a masterclass in not holding back that paid fully committed tribute to its literary horror inspirations.
12. Children of the Stones (1977)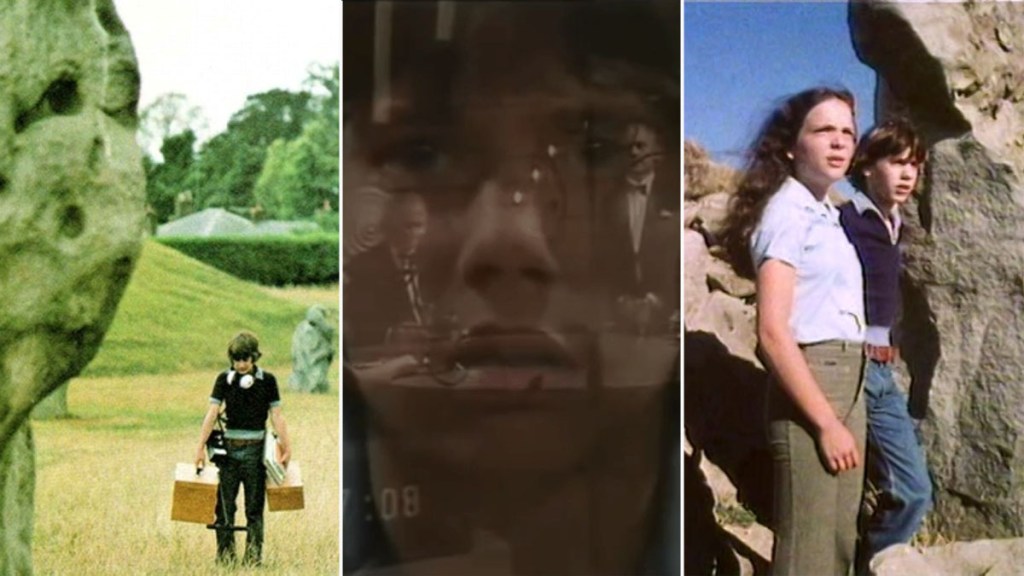 'Leave the stones? You never will. Nobody leaves the circle.'
"And this is for children?" director Peter Graham Scott is said to have queried when he read the first script for Children of the Stones. That can't possibly have been the only time that question was asked during production of Jeremy Burnham and Trevor Ray's chilling ITV serial. How about when Sidney Sager's deeply unsettling horror choral score was first heard? Or when Iain Cuthbertson played his first scene as lord of the manor/magus Hendrick? Surely it was asked when the art department delivered the cursed painting that young Matthew brings to the village of Milbury, where his professor father has been sent to study the druidic stone circle. Perhaps someone said it when the eerie words "Happy Day" were first said on set?
"Happy Day", the phrase used by the puppet-like inhabitants of Milbury known as the Happy ones, is one of many elements that make Children of the Stones perfect for a young audience. It's a playground game-ready codeword that satisfies the child's suspicion that grown-ups are automatons operating under a mysterious and evil influence, and they're the only ones able to see through the lie. That's the unnerving fear this excellent, complex and dread-soaked series taps into as Matthew and his father untangle the dark truth of Milbury (really Avebury in Wiltshire) and the secrets of its standing stones.
11. American Horror Story
'If you look into the face of evil, evil's gonna look right back at you.'
In the streaming era of television, you can't throw a rock without hitting an anthology series. Anthologies work perfectly for an overstuffed TV landscape. They come in, tell their story, and then leave – making way for the next story under their franchise umbrella. With that in mind, it can be hard to remember just how revolutionary the first season of FX surprise anthology series American Horror Story was.
Pardon the spoilers for a decade-old season of television, but American Horror Story's first act, retroactively subtitled "Murder House", ends with just about everyone dead. And if that weren't surprising enough, FX announced shortly thereafter that it would be continuing the Ryan Murphy-created series with a new, almost entirely unrelated season. Since that radical TV programming choice, new lightly-connected seasons of American Horror Story have covered: asylums, witches, haunted hotels, and regrettably: the end of the world.
Some seasons of American Horror Story are better than others, but that's just inherent to the anthology format. Even all these years later, there's no show so dedicated to bringing horror to television quite like this one.
10. Inside No. 9 (2014 – )
'I don't think I want to watch the ending'
Three entries in and we've already contravened our own rule about including no horror comedies, but for very good reason. Inside No. 9 is a comedy with the Bafta to prove it, but it's also a drama, and it's also a horror, and very often, it's all three at once. In whichever mode its stories are told though, horror is always close to its perverse and playful heart. It's a spiritual successor to some of the older shows on this list, picking up the mantle from Tales of the Unexpected, A Ghost Story For Christmas, Play for Today and more. It has an uncanny and mercurial ability to switch from spoof to scare, right from series one's 'The Harrowing' all the way to series six's 'Hurry Up and Wait' and 'How Do You Plead?' and hopefully beyond (series seven is already on its way).
Over six series and 36 episodes so far – including one diabolically nasty Christmas special and a Halloween instalment that hoodwinked the nation – this BBC Two series has provided some unforgettable horror moments. Cannibalism, skeletal remains, demonic possession, Satan worshippers, vengeful spirits, vampires, more murders than you could count… Creators Reece Shearsmith and Steve Pemberton have filled their grotesquerie with unsettling surprises, and, along with producer Adam Tandy and the excellent cast and directors their scripts attract, have done it all on a modest BBC budget. May its pizzicato strings and dust motes haunt television for years to come.
9.  The Fades (2011)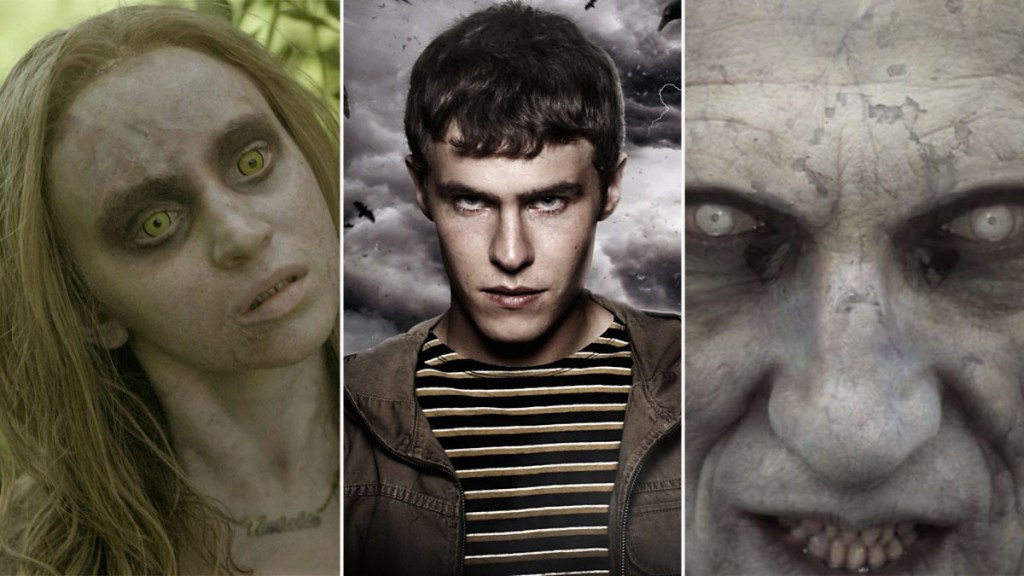 'The dead, the Fades, are walking the Earth'
Currently 2011's The Fades is listed on IMDb as a mini-series, which hurts. The Fades should not be a mini-series (though admittedly compared to the US, basically all British TV shows, even the ones that run for years, are mini-series). Jack Thorne's acclaimed horror drama should have at least three beautiful runs of episodes plus a movie and a Christmas special. The British viewing public though, or at least those in BBC Three's sought-after demographic, were too late to the party and this unique horror with a stellar young cast was cut off in its prime.
The Fades is the story of Paul (Iain de Caestecker), a teenager who can see dead people. A fracture in the ascension process between life and death has left Earth populated by wandering wraiths, who are growing angrier and more vengeful with every passing year. When the Fades discover a way to take revenge on the living, a group called the Angelics has to stop them. It's witty, human, touching, thrilling… and soaked in horror, from its creature designs to its chilling tension. And what a cast! Daniel Kaluuya! Natalie Dormer! Tom 'Lucifer' Ellis! Joe 'Gendry' Dempsie! It's such a well-drawn series that even ended prematurely, it's still very much worth a watch.
8.  Hannibal (2013 – 2015)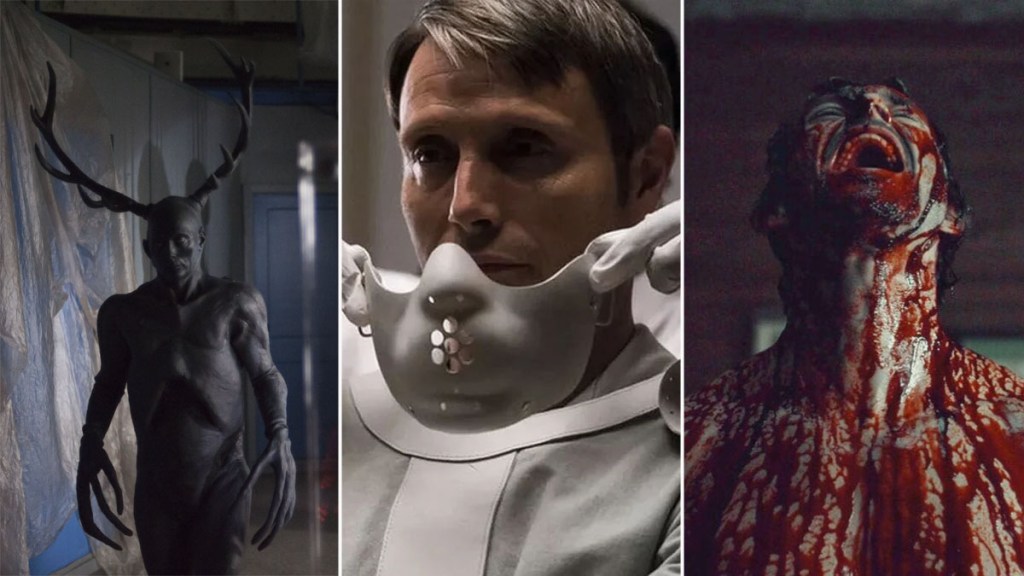 'When the fox hears the rabbit scream, he comes running. But not to help.'
Since this list is being written by an American and a Brit ("Hi Louisa!" – ❤️Alec), I'm suddenly very conscious of the differences in content restrictions between the two Anglo-speaking countries. In the United States, sex scenes are infamously frowned upon when it comes to network television – and even oftentimes even cable. And yet, acts of unspeakable violence are often able to sneak their way through. Case in point is NBC's brilliant horror series Hannibal. Hannibal is one of the most ludicrously violent, grotesque, and horrifying shows to ever grace television. Somehow it aired at 10 p.m. ET on NBC, presumably after a rousing episode of The Voice. Like yeah, it's a school night and the kids are asleep but they're not that asleep.
Hannibal borrows its concept and characters from Thomas Harris's series of books about serial killing. Mads Mikkelsen stars as the titular character and somehow makes a role that Anthony Hopkins already won an Oscar for his own. The show was and remains a big online fandom hit, thanks to the crackling chemistry between Mikkelsen and Hugh Dancy as criminal profiler Will Graham. That shiny fandom sheen, however, shouldn't distract from the fact that this is a truly terrifying show featuring eviscerated bodies, Colombian neckties, and human totem poles at every turn.
7.  Tales From The Crypt (1989 – 1996)
'Fasten your drool cups, and ready your vomit bags! We're going to the movies! Frights, camera, action!'
If the only thing that Tales from the Crypt presented was its opening credits featuring rotting storyteller the Cryptkeeper, that alone would be enough to be among the scariest stories in TV history. Each episode of HBO's horror anthology begins with the camera creeping its way past from creaky gates and the zooming into a clearly haunted mansion. After the audience makes it way through copious cobwebs and candles, they are greeted by this terrifying little bastard throwing open his coffin door and screaming. Somehow, however, things only gets spookier after that.
Based on an EC comics series of the same name, Tales from the Crypt is the television heir apparent to fellow TV series like The Twilight Zone and even comics and films like Creepshow. The premise here is simple: each episode brings new viewers a new terrifying tale of woe. What's better is that many of these episodes star big time Hollywood talent like Brad Pitt, Patricia Arquette, Whoopi Goldberg, Tom Hanks, and more. Making horror work in longform serialized storytelling is hard, so this show keeps things simple with self-contained stories. Through seven seasons, Tales from the Crypt introduced some real classics like "The Ventriloquist's Dummy", "Television Terror", and "What's Cookin'".
6.  Channel Zero (2016 – 2018)
'You have to go inside.'
Channel Zero's time on television was brief – only four six-episode seasons scattered across two years to speak of. It's also hard to find now, as it's only available in the U.S. on AMC+. But don't its relative anonymity fool you. This Syfy series is, pound for pound, one of the most terrifying things to ever air on TV. Just look at the unbelievably monster costuming work in those photos above! In a TV market saturated with existing horror IP, Channel Zero understood that there was one untapped gold mine of pure terror to be found on the internet.
Starting with its first season adaptation of online short story "Candle Cove," Channel Zero sought out and adapted the best of the best "creepypastas" – or online scary stories. Following Candle Cove, Channel Zero brought "No-End House," "Butcher's Block," and "The Dream Door" all to life. Series creator Nick Antosca has a good eye for storytelling and an even better eye for monster creation. Every season of the show feels like someone else's barely contained nightmare, aching against its restraints to crawl into the viewer's head.
5.  Tales of the Unexpected (1979 – 1988)
'It's the sweetness that attracts them, you see. And then the stickiness prevents them from getting away.'
Not all horror involves demonic creatures and the supernatural; there's evil enough in humankind to sustain years of chilling storytelling, which is just what Tales of the Unexpected exploited throughout its nine-series ITV run. Some of these half-hours did dip a toe into the paranormal (who could forget the plump infant reveal of 'Royal Jelly'?), but they mostly showcase earthly corruption and domestic noir, like chilling child abduction tale 'Flypaper'. With 112 episodes in total, around a third were based on stories by Roald Dahl, whose name prefixed the title in the early years and who filmed fireside introductions teasing what was to follow. The nasty misanthropy of Dahl's imagination is well-known to those who've read his children's books, and it found full expression here with stories of revenge, lies, murder and cannibalism.
Ask viewers for the most memorable element now and chances are they'd cite the luridly hypnotic opening credits – the prelude to many a sleepless night for youngsters allowed to stay up and watch. A women painted white dances in front of flickering flames, a roulette wheel spins, the barrel of a gun points out, there's the smirk of a demonic mask and a set of tarot cards, all accompanied by Doctor Who theme composer Ron Grainer's nightmarish fairground music. Blackly comic in places and known for their outlandish twists, the stories are neat, devilish and difficult to forget.
4.  The X-Files (1993 – 2018)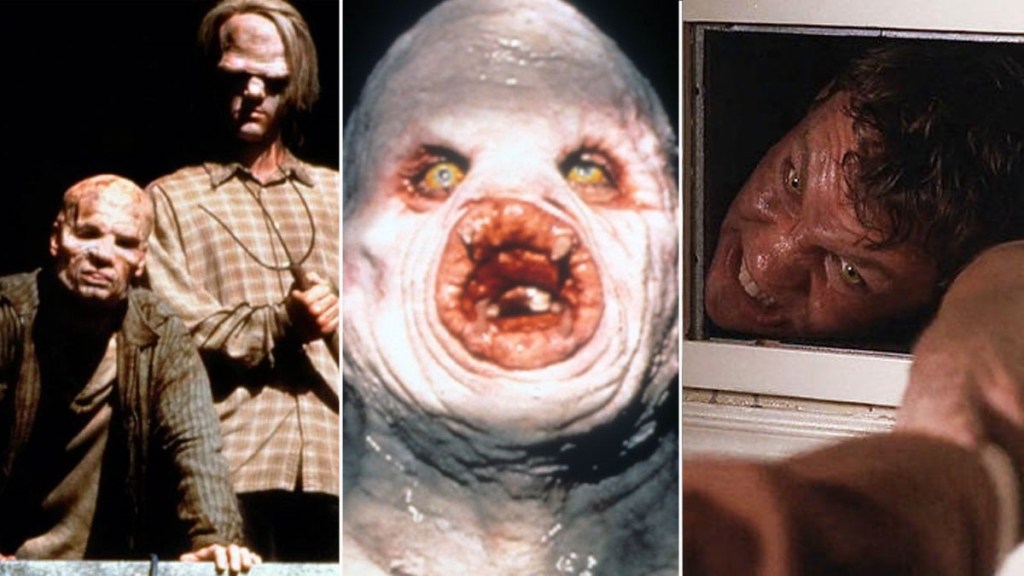 'We wanted.. to believe. We wanted to call out.'
It's impossible to imagine the TV horror landscape without The X-Files. In fact, it's hard to imagine much of television at all without it. The Chris Carter-created Fox show is a foundational series for many that came after it. Its contributions to the pop culture canon include: presenting stars with intense chemistry (David Duchovny's Fox Mulder and Gillian Anderson's Dana Cully), a "monster of the week" format, and an overarching series "lore." In addition to all that, however, The X-Files could be just plain terrifying when it wanted to be.
Though Agents Mulder and Scully were often more concerned about aliens, the show was never shy about presenting more terrestrial horrors. Some of The X-Files' scariest episodes are some of all of televisions scariest episodes. God help any young viewer who watched season 1's "Squeeze", season 2's "The Host", or season 4's "Leonard Betts." And if viewers somehow survived all that, "Home" is right there waiting for them. If a more grotesque and upsetting hour of television has ever aired, we haven't seen it.
3. The Haunting of Hill House (2018)
"No live organism can continue to exist sanely under conditions of absolute reality."
Horror stories have been around for a long time. As such, many modern horror tales try to stay fresh by taking otherwise innocuous items or events and injecting a bit of mortal terror into them. Think of Psycho and its shower scene, Alien and a simple crew dinner, or Jaws and a sunny public beach. We all agree that dingy back allies, funeral homes, and enormous decaying manors are already scary enough. What could the possible value be in continuing to beat those dead spooky horses? Thankfully, Haunting of Hill House creator Mike Flanagan understands that there is still some new horror to be found in the classic tropes.
Hill House borrows its name and little else from the classic Shirley Jackson novel. This decades-spanning horror saga follows the Crain family in the early 1990s as they try to rehabilitate a clearly haunted house that resists their every move. Then it flashes forward to present day to witness the human wreckage that living in a violently haunted house left behind for the Crain children. The secret to The Haunting of Hill House's success is how absolutely relentless it is. From its kinetic opening scene to some of the cruelest jump scares ever captured on film, the show never lets too much time go between moments of abject terror.
Even when things are "peaceful" on The Haunting of Hill House, the audience can't help but get the sense that they're being watched…and that's because they are. Flanagan and company packed dozens of hidden ghosts into scenes throughout the series, hammering home just how pervasive and all-encompassing Hill House's hunger for souls is. This limited series is only three years old now, and Flanagan has gone on to craft other solid horror entries like The Haunting of Bly Manor and Midnight Mass, but bet on this one becoming a Halloween TV classic for years to come.
2.  The Twilight Zone (1959 – 1964)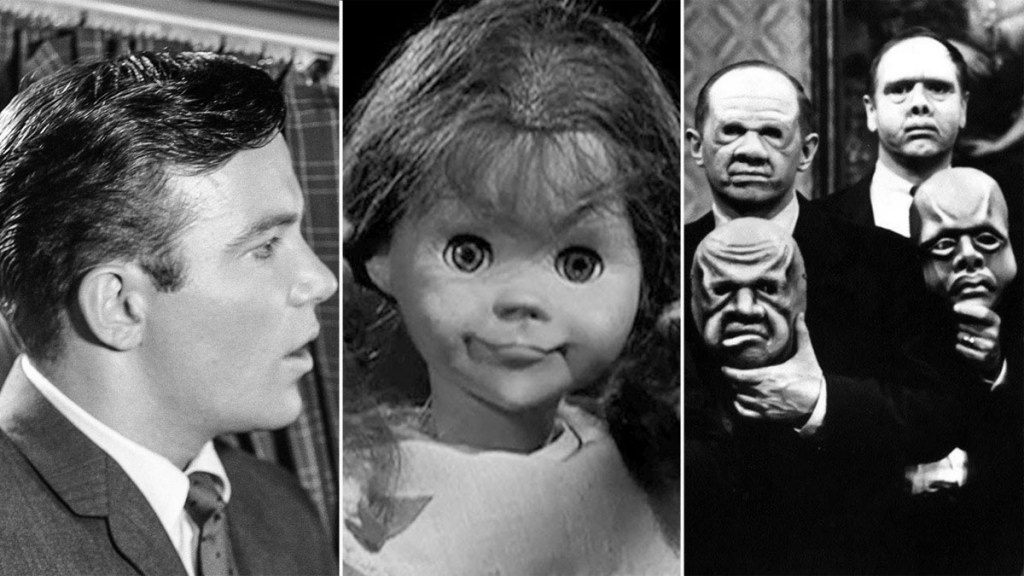 "It may be said with a degree of assurance that not everything that meets the eye is as it appears."
The Twilight Zone is a lot of things. It's the kind of sci-fi storytelling that your Asimovs, Bradburys, and Le Guins dream about. It's also creator Rod Serling's vision for a better, more equitable world. But above all else it is high octane horror that more than stands the test of time. Serling's anthological masterpiece was truly ahead of its time, not only frequently in the social sense, but in the structural one as well. Short stories have always worked best for horror, lest one drone on too long and the campfire dwindles to embers. Turns out some short stories is exactly what the burgeoning medium of television needed.
The original iteration of The Twilight Zone understands that better than many horror properties do today. Each Twilight Zone installment presents its premise, tells its short story, and then gets out leaving the viewer dumbfounded and trying to uncover what it all means. And it did it all a staggering 156 times. Some of the best horror short stories from the last millennium hail from Serling's masterpiece. Tales like "Eye of the Beholder", "Nightmare at 20,000 Feet", and "The Masks" still have the capacity to thrill today. The Twilight Zone was so good at what it does that it's rebooted countless times, most recently as a series from Jordan Peele for CBS All Access (Paramount+). But even if The Twilight Zone were never continued, its influence would still be felt in just about every other horror show on television.
1.  A Ghost Story For Christmas (1971 – 1978)
'Halloa! Below there!'
How and when these enduringly sinister films were first broadcast on BBC One doubtless enhanced their power to unnerve. It was before television was a 24-hour experience, explains British Film Institute TV consultant Dick Fiddy in his introduction to the 2012 BFI release. They were aired late at night "probably watched by the dying embers of the fire before the viewer turned in for the night; the nightmarish quality of the stories would linger as they went to bed." Whose imagination wouldn't be haunted by the indelible image of the ghostly, grinning children in Lost Hearts, or the face revealed at the end of Charles Dickens adaptation The Signalman?
The original anthology series (it was revived by the BBC in 2005) includes eight titles, in with which the chilling Whistle and I'll Come To You is often bundled. Largely adapted from the ghost stories of M.R. James and directed by Lawrence Gordon Clark, the films aren't gory but a masterclass in atmosphere, suggestion and dread. That was in great part due to the work of sound recordist Dick Manton who built tension with eerie effects and avant-garde classical music. They weren't made in bright studios but on location in bleak, evocative British landscapes captured by the precise eye of cameraman John McGlashan. Several were stories of spectral warnings, either to potential victims or to transgressors whose punishment awaited them, lending a sense of creeping dread as characters are stalked, haunted and sent out of their minds. Watched now, the distance of the period adds another layer of alien discomfort thanks to long scenes and intense performances. Arguably the greatest horror tales ever to air on television.
Happy Halloween!