Products You May Like
Over a year after Square Enix and Crystal Dynamics first announced that Spider-Man would release as a DLC character for Marvel's Avengers, it's finally happening in November. The game's "With Great Power" hero event will see the wallcrawler join the rest of Earth's Mightiest Heroes in the fight against evil criminal organization AIM and their army of robots and mechs.
"Peter Parker uncovers AIM's new plan to acquire technology that could make their Synthoid army unstoppable and total domination inevitable," reads of a synopsis of the game's Spidey DLC. "He must partner with the Avengers to stop this looming threat, and forms a tentative friendship with Ms. Marvel and Black Widow while keeping his identity hidden. As a Hero accustomed to working solo, he struggles with the new dynamics of working with a team. Will he join up full-time with the Avengers, or stay independent in his fight against AIM?"
Yes, it does sound like Marvel's Avengers is telling its own version of Spidey's first adventure with the Avengers. Does that sound exciting? Well it should…if you have a PlayStation copy of the game. As revealed ahead of the game's release last year, Spider-Man will release only on the PS4 and PS5 versions of Marvel's Avengers as part of an exclusivity deal between Square Enix and Sony. If you have the game on any other platform but want to play as the web-slinger, you're simply out of luck.
"Because of the relationship Sony and PlayStation have with Marvel, there was a unique opportunity for PlayStation fans to be able to have that hero brought to them," Crystal Dynamics head Scot Amos told us of the decision to make Spidey exclusive to Sony's consoles. It makes sense. Sony, after all, published the Marvel's Spider-Man games, which are also exclusive to PlayStation consoles.
But don't expect Square Enix's Spidey to have many similarities with PlayStation and Insomniac's version of the character. Marvel's Avengers has finally unveiled its take on Spider-Man, with a costume design that doesn't stray very far from the original comic book suit created by Steve Ditko. It certainly doesn't take as many liberties as Insomniac Games did in 2018. Check out the "With Great Power" promo featuring a first look at Spidey below: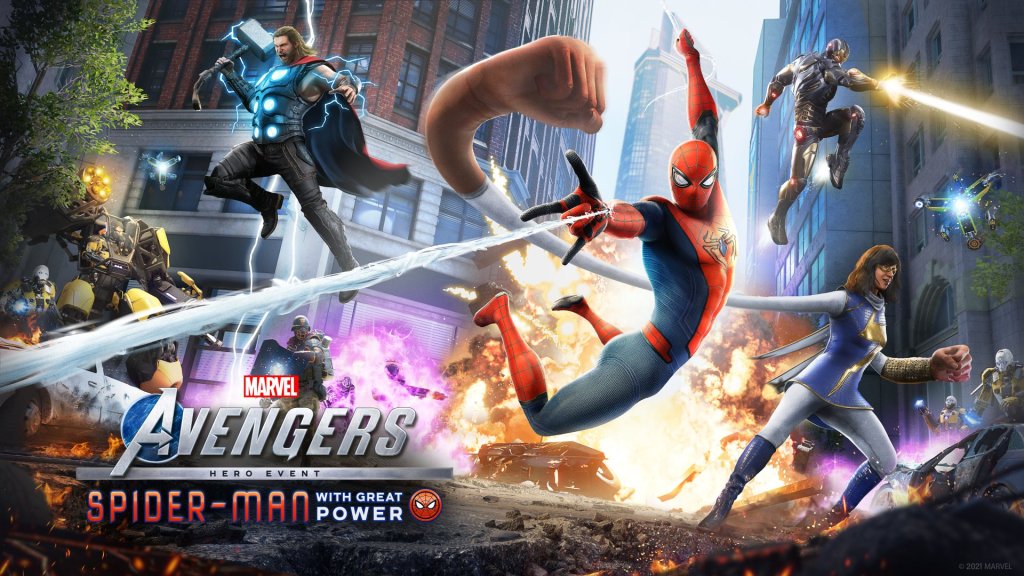 The first thing you have to remember is that, while Marvel's Spider-Man did drop references hanging out in the West Coast (as they do in Square Enix's game), Insomniac's Spidey exists in a different universe than the one in Marvel's Avengers. So the fact that Avengers Spider-Man is wearing a different suit isn't all that surprising. And there are big differences between the two costumes.
Gone is the white trim of Insomniac's Spidey as well as the more sneaker-like boots. The suit also looks less fragmented than the Insomniac one, with Square Enix's all flowing as if it's all one piece. Avengers Spider-Man also sports multi-colored gloves as well as a symbol that looks blue as opposed to the usual black. The spider symbol sits on Avengers Spidey's chest as opposed to running down his entire torso like in the PlayStation game. Overall, the design is a lot less unique, but also pretty faithful to Ditko. It'll be up to gamers to decide which approach they like better (although there's room for both, as the myriad skins in Marvel's Spider-Man prove).
"With Great Power" won't be the only add-on coming in the game's big November update. A new raid, earnable cosmetics, and other activities and events will also hit Marvel's Avengers on Nov. 30. You can check out a roadmap of all the new content below as well as read more about the update here.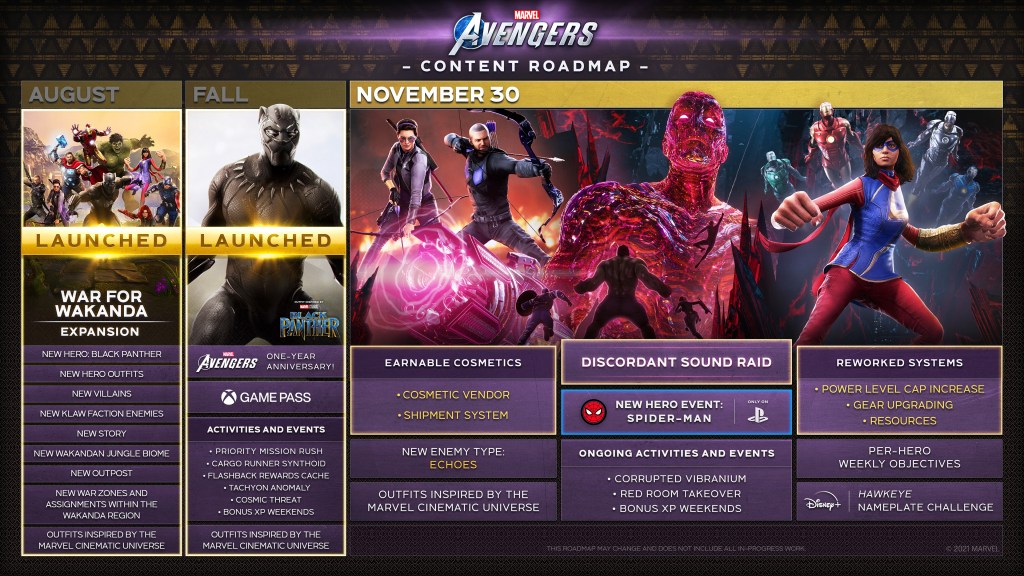 Marvel's Avengers is available now on PlayStation 5, Xbox Series X/S, Xbox One, PlayStation 4, PC, and Google Stadia.