Products You May Like
Warring empires, magical creatures and deadly pacts make up the sprawling fantasy genre, from the epic to the slice of life. Take a look at our top picks for new fantasy books in November 2021.
Jade Legacy by Fonda Lee
Type: Novel
Publisher: Orbit
Release date: Nov. 30
Den of Geek says: Lee's writing has often been praised on both the technical level and as a vehicle for a fun adventure. Her East Asian-inspired high fantasy in a gritty city sets itself apart.
Publisher's summary: Jade, the mysterious and magical substance once exclusive to the Green Bone warriors of Kekon, is now coveted throughout the world. Everyone wants access to the supernatural abilities it provides, from traditional forces such as governments, mercenaries, and criminal kingpins, to modern players, including doctors, athletes, and movie studios. As the struggle over the control of jade grows ever larger and more deadly, the Kaul family, and the ancient ways of the Kekonese Green Bones, will never be the same.
Battered by war and tragedy, the Kauls are plagued by resentments and old wounds as their adversaries are on the ascent and their country is riven by dangerous factions and foreign interference. The clan must discern allies from enemies, set aside bloody rivalries, and make terrible sacrifices… but even the unbreakable bonds of blood and loyalty may not be enough to ensure the survival of the Green Bone clans and the nation they are sworn to protect.
The Bone Shard Emperor by Andrea Stewart
Type: Novel
Publisher: Orbit
Release date: Nov. 23
Den of Geek says: Another entry in today's bumper crop of epic fantasy. This sequel offers warring wizards and has been praised for its world-building and intrigue.
Publisher's summary: The Emperor is Dead. Long live the Emperor.  
 
Lin Sukai finally sits on the throne she won at so much cost, but her struggles are only just beginning. Her people don't trust her. Her political alliances are weak. And in the north-east of the Empire, a rebel army of constructs is gathering, its leader determined to take the throne by force.  
 
Yet an even greater threat is on the horizon, for the Alanga–the powerful magicians of legend–have returned to the Empire. They claim they come in peace, and Lin will need their help in order to defeat the rebels and restore peace.  
 
But can she trust them?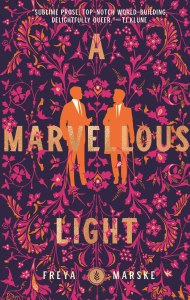 A Marvelous Light by Freya Marske
Type: Novel
Publisher: Tordotcom
Release date: Nov. 2
Den of Geek says: We move from epic fantasy to something smaller and more personal with this spicy supernatural-adjacent romance. This might be a good pick if you wanted Jonathan Strange and Mr. Norrell to be more focused on a love story.
Publisher's summary: Robin Blyth has more than enough bother in his life. He's struggling to be a good older brother, a responsible employer, and the harried baronet of a seat gutted by his late parents' excesses. When an administrative mistake sees him named the civil service liaison to a hidden magical society, he discovers what's been operating beneath the unextraordinary reality he's always known.
Now Robin must contend with the beauty and danger of magic, an excruciating deadly curse, and the alarming visions of the future that come with it―not to mention Edwin Courcey, his cold and prickly counterpart in the magical bureaucracy, who clearly wishes Robin were anyone and anywhere else.
Robin's predecessor has disappeared, and the mystery of what happened to him reveals unsettling truths about the very oldest stories they've been told about the land they live on and what binds it. Thrown together and facing unexpected dangers, Robin and Edwin discover a plot that threatens every magician in the British Isles―and a secret that more than one person has already died to keep.