Products You May Like
Revisit 1970s eco-horror, a rotting commune, and Joe Hill's short fiction in December 2021's top horror picks. That chill down your spine has nothing to do with winter…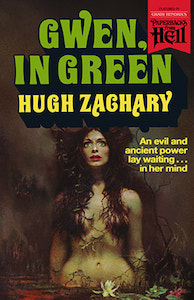 Gwen, in Green by Hugh Zachary
Type: Novel (reissue)
Publisher: Valancourt Books
Release date: Dec. 7
Den of Geek says: Anything recommended via Grady Hendrix's Paperbacks from Hell is an auto-read. And to be honest, we could all use a dose of vintage eco-horror…
Publisher's summary: After receiving a large insurance settlement, young couple Gwen and George fulfill a dream by buying their own little island, a secluded, private paradise surrounded by a lush green landscape of plants.
What the real estate man didn't tell them was that a tragedy took place years earlier in the cool, clear pool near the house. And the waters still hold a terrifying, centuries-old secret.
Soon George begins to notice strange changes in his wife. Always so reserved and demure, suddenly Gwen has become passionate and insatiable. And then there are the people who have mysteriously started to disappear…
This first-ever reissue of Hugh Zachary's eco-horror novel Gwen, in Green (1974) features the original cover painting by George Ziel and a new introduction by Will Errickson.
Buy Gwen, in Green by Hugh Zachary.
A History of Wild Places by Shea Ernshaw
Type: Novel
Publisher: Atria Books
Release date: Dec. 7
Den of Geek says: Let's keep the eerie retro vibe going with another visit to the 1970s—this time via a seemingly idyllic commune whose members seem to keep disappearing.
Publisher's summary: The New York Times bestselling author of The Wicked Deep weaves a richly atmospheric adult debut following three residents of a secluded, seemingly peaceful commune as they investigate the disappearances of two outsiders.
Travis Wren has an unusual talent for locating missing people. Hired by families as a last resort, he requires only a single object to find the person who has vanished. When he takes on the case of Maggie St. James—a well-known author of dark, macabre children's books—he's led to a place many believed to be only a legend.
Called Pastoral, this reclusive community was founded in the 1970s by like-minded people searching for a simpler way of life. By all accounts, the commune shouldn't exist anymore and soon after Travis stumbles upon it… he disappears. Just like Maggie St. James.
Years later, Theo, a lifelong member of Pastoral, discovers Travis's abandoned truck beyond the border of the community. No one is allowed in or out, not when there's a risk of bringing a disease—rot—into Pastoral. Unraveling the mystery of what happened reveals secrets that Theo, his wife, Calla, and her sister, Bee, keep from one another. Secrets that prove their perfect, isolated world isn't as safe as they believed—and that darkness takes many forms.
Hauntingly beautiful, hypnotic, and bewitching, A History of Wild Places is a story about fairy tales, our fear of the dark, and losing yourself within the wilderness of your mind.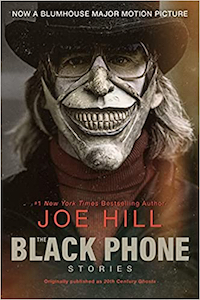 The Black Phone: Stories by Joe Hill
Type: Short story anthology (reissue)
Publisher: William Morrow Paperbacks
Release date: Dec. 28
Den of Geek says: This is the perfect time to revisit Joe Hill's first short story collection—not just for the eponymous movie adaptation, but for the other 14 stories that run the gamut from deliciously creepy to oddly sweet.
Publisher's summary: Joe Hill's award-winning story collection, originally published as 20th Century Ghosts, featuring "The Black Phone," soon to be a major motion picture from Universal Pictures and Blumhouse Productions.
Jack Finney is thirteen, alone, and in desperate trouble. For two years now, someone has been stalking the boys of Galesberg, stealing them away, never to be seen again. And now, Finney finds himself in danger of joining them: locked in a psychopath's basement, a place stained with the blood of half a dozen murdered children.
With him in his subterranean cell is an antique phone, long since disconnected… but it rings at night anyway, with calls from the killer's previous victims. And they are dead set on making sure that what happened to them doesn't happen to Finney.
"The Black Phone" is one of fifteen stories in Joe Hill's first story collection, originally published as 20th Century Ghosts—the inventive and chilling compendium that established this award-winning, critically acclaimed, and bestselling author as "a major player in 21st-century fantastic fiction" (Washington Post).