Products You May Like
The Matrix Resurrections has revealed most of its returning cast in the lead up to the film's long-awaited release later this month. We've seen Keanu Reeves back as a more grungy Neo, Carrie-Anne Moss as a leather jacket-wearing grease monkey version of Trinity, and even Daniel Bernhardt has suited up once again as Agent Johnson. But there are still a few other returners we haven't seen, such as Jada Pinkett Smith's Niobe, the ship captain who played a vital role in the two Matrix sequels.
Then there's Lambert Wilson's elusive Merovingian, the grimy information broker and crime boss who was obsessed with cause and effect in The Matrix Reloaded and threw a hell of a bondage party in Revolutions. Warner Bros. has kept the villain's return very close to the chest, but a new teaser announcing the advance ticket sales date finally lifts the curtain on a Merovingian who's 20 years older and has clearly seen better days.
Check out the video below:
It's a blink and you'll miss it moment, one of the many deja vus teased in the promo, but it's enough to know that we're not going to get the Merovingian we expect in Resurrections. In the screenshot below, you can see a much more disheveled, bearded version of the Frenchman whose days eating at the fanciest restaurants in Mega City are definitely far behind him. (He kind of looks like the Trainman played by Bruce Spence in Revolutions, doesn't he?) Gone too is the usual smugness on his face, replaced by despair or fear. His reunion with Neo, Trinity, and Morpheus should be very interesting.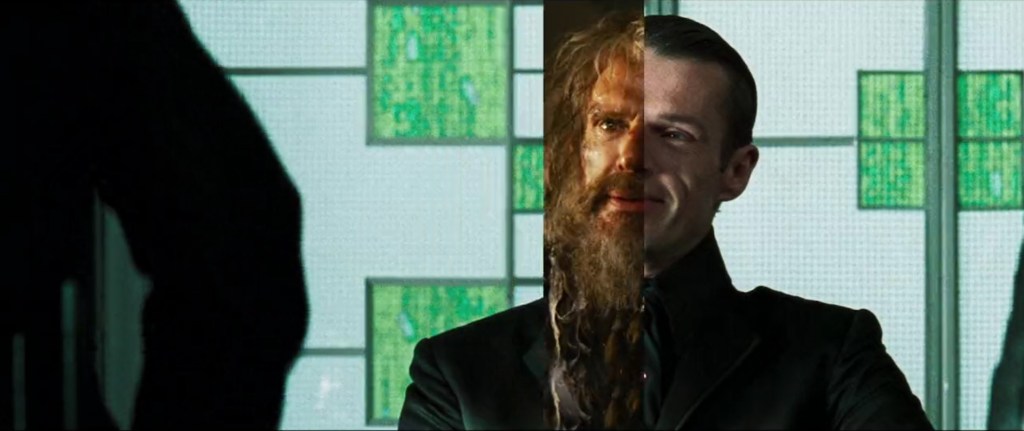 While we know virtually nothing about the Merovingian's role in the movie, we did recently learn that Priyanka Chopra is indeed playing an adult Sati, which should be a chance to explore another Matrix sequel character whose story didn't have much time to develop before the end of the trilogy.
As far as new cast members go, it's impossible to miss Jessica Henwick's acrobatic Bugs and Yahya Abdul-Mateen II's younger Morpheus in all of the marketing. Henwick told Den of Geek in a recent interview that her character is "a captain, and a leader, and a true believer in the legend of Neo."
In the trailers released thus far, we see Bugs getting into quite a few scrapes alongside Morpheus, while also guiding Neo through the mysteries of the Matrix. Henwick said of working with Reeves, "Keanu really is everything you've heard. I mean, it's not news for me to say he's the nicest actor in Hollywood. Everyone knows that. Very kind. Very generous. Very, very shy. Very intelligent. There was no small talk with Keanu. It was always just like, 'What do you think is at the bottom of the ocean?' We would have these really esoteric discussions between takes. It was a highlight of my day, honestly."
We likely won't learn what's at the bottom of the ocean in The Matrix Resurrections, but we may see just how deep the rabbit hole goes for these characters when the movie opens on Dec. 22 in theaters and on HBO Max.